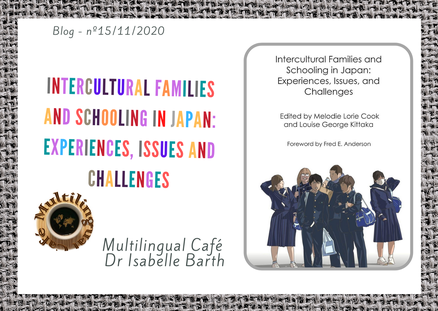 When I was given the opportunity to review the book "Intercultural Families and Schooling in Japan: Experiences, Issues and Challenges", I thought I would read about how happy and easy it is for bi-national families to live in Japan. Not knowing the Japanese culture, I was keen to discover more and to learn how non-Japanese fit in the Japanese culture and how great it is to live in such a country. 
Edited by Melodie Lorie Cook and Louise George Kittaka, this book is a collection of 11 true stories of bilingual and bicultural families in Japan ; one of the parents is a Japanese in most of them. Each of the authors are both, a parent and a researcher in one of Japan's universities. They have been researching on a topic which has affected their own families and which may affect other families in the same way. The approaches used were either ethnography, auto-ethnography or narrative inquiry, methods which allow to speak about human experience.
It was felt by most of the authors that teachers in Japan are lacking knowledge about bilingual and bicultural children. They seem to be living in a kind of bubble wherein every child should strive to fit in. Divided into three main areas, we are thrown into the meanders of the Japanese education system. Coming from different backgrounds, the authors observe the Japanese school system and its "reputation for strictness and old-fashioned rote memorisation" (Gordenker, 2004). They all thought that "a balanced bilingual person would make a positive contribution to society" (Yphantides, 2020). However, in different manners, they were all faced by the rigidity of the Japanese school system. The "single-country-single-language narrarative" (Yphantides, 2020) has brought them experiences they certainly did not expect. The first area covers the question of trying to find your way in the Japanese education system. Jennifer Yphantides' story unravels to us how non-Japanese children and mixed-race children are trying to navigate their identities, being physically non-Japanese. Jon Dujmovich highlights how this education system can have "cultural gender-based biases" (Dujmovich, 2020). His story tells us how education is mostly left to mothers in Japan and how as a single divorced father he struggled to fit in in the Japanese "very strong stereotypical gender roles for child-rearing" (...) where "group-adhesion and conformity are valued" (Dujmovich, 2020).  Speaking another language than Japanese at home is not always seen as an asset. We learned how parents try to make it accepted that Japanese is not their mother-tongue and that their Japanese-born children may be using another language at home. Marybeth Kamibeppu insightfully accounts about the struggles bilingual and bicultural families in Japan are facing when trying to pass on their home language and culture to their children. When as a parent, Japanese is not your mother tongue, it is possible to experience "moments of isolation" and feel "left out of fast-paced Japanese conversation" (Kamibeppu, 2020). Moreover as it is not a priority in the school system, passing on your language and culture to your children would require time, energy and finances. Shane Doyle and Fiona Creaser describe to us about the challenges they faced when bringing up their children in a third culture. "Living in a predominantly monolingual society" (Creaser&Doyle, 2020) while wishing that their children would be proficient in the other languages (English and Irish) was quite difficult. The workload of Japanese schools leaves little time for the children to really apprehend and blossom in their parents' languages. It is quite interesting too to read how their home culture also influenced their children abilities to embrace their differences.  
The second part of the book deals with the school system itself. Cynthia Smyth and Lily Thukral tell how difficult it was for them to cope with the school homework. They feel the children are spending more time at school than in their home country and have more homework, even during school vacation. They explain how they tried to find help despite communication between parents and teachers being rigid and parents being rarely listened to. Moreover, as school education mainly falls on mothers, the fact that they are the non-Japanese parents increased the difficulties. I was surprised to read that "an insistence on the 'equality' of all students led schools to ignore the children's individual needs" (Smyth & Thukral, 2020), as schools "were operating within the Japanese collectivist and egalitarian framework of minimising differences" (Smyth & Thukral, 2020). Meredith Stephens draws our attention on how subjects could be transferred from the Japanese system to the Australian one. The comparison is quite interesting; one interviewee said: "In Japan you don't do anything based on your interests, the topic is chosen for you. And you don't do your own research. You are told how to think about things" (page 136). The challenge was to transfer the academic skills from one system to the other. Charlotte V.T. Murakami focuses on the Japan's Overseas school system. Historically it began after WWII in order "to ensure the children attain a native-like fluency in Japanese and to instill in them what it means to be Japanese" (Murakami, 2020).
The third part deals with challenges in education. We discover how being different can be a real challenge in Japan and where being different is can lead to bullying and isolation. Being "'abnormal' may bring shame on [the] families, particularly in Japanese culture which values uniformity" (Ryan 2020). Suzanne Kamata recounts her story in raising a deaf child in Japan while speaking English. She never expected to face so many challenges for the implantation of a cochlear and choosing the schools for her daughter. Eugene Ryan tells about his battle for his son who has been diagnosed as autistic, a battle for him to become bilingual and avoid special need education. Adopting and fostering children and having them accepted was the battle of Melodie Cook, especially as teachers are not trained to work with children who have been adopted and may have experienced trauma before. Being told she was not a loving mother was particularly hurtful moreover so when she knew that the teachers lacked the necessary knowledge and training. 
To conclude Louise George Kittaka's story takes us to New Zealand where her children decided to go when teenagers. This was a very rich experience for them to go and study in their mother's home country.
Each of these chapters can be read individually and are an eye-opener on the reality of the Japanese school system for bicultural and bilingual families.  After a truly enjoyable read of this thought-provoking book written by people who chose to live in Japan , a book where every word leads to uncover some aspects of the educational system and the life of bilingual and bicultural families in Japan, I must say that I enjoyed every single word of it and would deeply recommend it to anybody wishing to embrace the Japanese way of life.
First published on Multilingual Café - Le blog - here